Hair Identity



Hair is an important element of people's characteristics. It is beautiful, sensual, sexy and a sign of health in people's physical state. It plays an essential role in how we recognise people, how we separate them from one another, how we feel attracted or unrelated to them.

Woman in particular care a lot about their hair. They dress their hair carefully and related to their state of mind and mentality. They choose different hairstyles in harmony with the people they are going to meet or even places that they will appear in. Most of the time you can get a general idea of the character of a woman by looking at her hair.

Iranian women have especially beautiful and fascinating hairs. Although, since Islam considers women's hair an element of provocation they are forbade to expose it to public. Naturally, Having lost a major expression of their identities, they have become obsessed with their facial features. They overdo makeup, wax and plastic surgery on the little bit of skin they are allowed to show off with. In a lot of cases, you can barely see what remains of their true natural beauties.

'Hair-Identity' is a series opposing the idea of Hijab. It shows certain and real characters whose faces and bodies have been deconstructed and the only detailed remaining element of their physical features is their hair. Yet, they are recognisable and very different from one another.

Each work's title is a hint, quote or fact about these characters revealing a little hidden secret about them that one can only see by going under the surface of their lives and in private. Just like taking off their scarf's and being able to see their beautiful hair.
I care and I follow up and I am different from my twin sister
| 40x30 cm | Ink on Cardboard | 2013
I am restless, never get enough of what I have gained
| 40x30 cm | Ink on Cardboard | 2013
I have explosive energy I want more more more from life
| 40x30 cm | Ink on Cardboard | 2013
I stand on my own and I will survive
| 40x30 cm | Ink on Cardboard | 2013
I have gained by giving, giving endlessly and without limits
| 40x30 cm | Ink on Cardboard | 2013
I miss my little room in the massive city
| 40x30 cm | Ink on Cardboard | 2013
I have explosive energy I want more more more from life
| 40x30 cm | Ink on Cardboard | 2013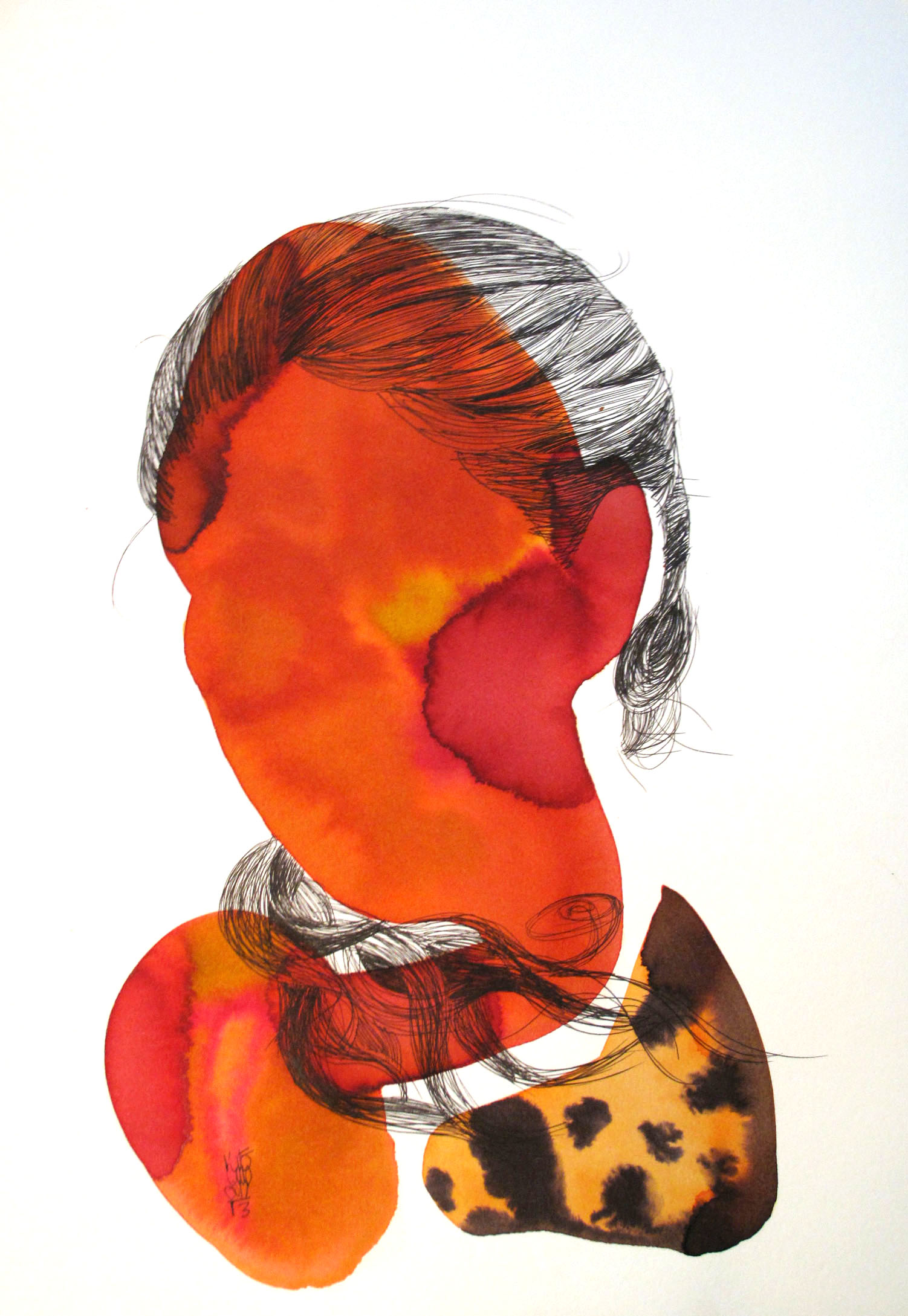 Flamenco sets me free
| 40x30 cm | Ink on Cardboard | 2013
I can hear with my eyes
| 40x30 cm | Ink on Cardboard | 2013
I once loved a woman
| 40x30 cm | Ink on Cardboard | 2013